Are you ready for a beautiful weekend away to recharge yourself?
Do you need some time away to relax and feel rejuvenated?
Are you looking to make wonderful connections with yourself and others?
The Weekend Optimist Retreat takes place at a gorgeous and luxurious lake house property in Port Dover, we will spend the weekend focusing on YOU!
During the weekend you will:
Connect with your true self and feel the flow of optimism and present moment living
Develop and deepen your self-care practices
Get a clear picture on your vision and cultivate practices that will allow you to create it in your daily life
Learn how to release limiting thoughts and replace them with empowered beliefs that elevate you
Nourish your mind, body and soul with relaxation, reflection, nature, healthy foods, movement and device-free time
Connect with amazing, like-minded women to share this transformative experience
You will be treated to:
3 days of luxurious waterfront living
2 nights of comfortable shared accommodation
6 delicious meals & special treats and all beverages
Sunrise yoga class
Linens and toiletries included
Evening campfires
Renewing activities, meditations
Reflective, personal time by the lake
RETREAT DETAILS
Only 6 spots available exclusively for women
Shared Accommodations: $525 + HST (Payment plan available)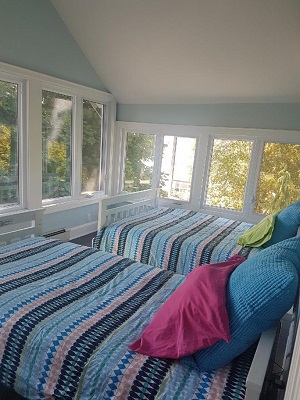 Karla Smith – Personal Transformation Coach, Optimism Expert
Karla is a brilliant problem solver and deep thinker who offers her clients an optimistic, uplifting perspective to life that propels them to take the inspired actions they need to shift and grow.
As a Certified Personal Life Skills Coach, Karla helps her clients untangle from their pessimism, self-doubt and feelings of fear so that they can begin to see how capable and equipped they are of handling any changes they face. She helps them to unearth and release the negative patterns and limiting beliefs that have been holding them back. Simultaneously, they learn and practice new tools and skills giving them a new, positive and self-confident operating framework to use when making their decisions. Clients are guided to set and implement step-by-step goals, reflecting their biggest dreams, transforming them toward empowered and joyful living.
Karla's experience, wisdom and thoughtfulness elevates her clients to new heights, making it possible for them to create transformative changes and live their best lives.
Penny Cook – Business Support Specialist
As a Business Support Specialist, Strategist and Virtual Assistant. Penny helps incredible entrepreneurs up-level their businesses. Giving them time and energy in their business & life to spend on what matters most to them.
Penny's superpower is that she provides a sense of ease and flow in any situation.
Her passion is to support women in creating a life they love unapologetically. Her clients can trust that they always have someone in their corner supporting them every step of the way.
With a background as a Certified Holistic Nutrition & Health Coach and Certified Culinary Nutrition Expert, Penny keeps us nourished, with beautiful, homecooked meals and snacks.